Day 1

Central Otgao Rail Trail - Alex to Clyde return - 9.5km each way
Grade 1 Easy
After travelling from Dunedin and arriving to the beautiful Central Otago sun we wanted to get into it and were also keen to test out all of the gear. We decided to go for a jaunt along the Rail Trail.
The flat wide surface was perfect to get used to the Shotgun Tow Rope and Trail Gator for both the tower and the towee. It wasn't long before Ezra wanted unclipped and was pedalling on little tracks off to the side just for fun but Luka was quite content to help dad pedal while still attached. It also wasn't long before we realised we had nearly made it to Clyde. Some of the group wanted a beer, some wanted ice cream and some wanted both so we decided to push on.
Post refreshments we set off back towards the accommodation but got sidetracked (literally and figuratively) near the old Clyde Railway Station with a turntable that was still in working order. Am I the only grown man obsessed with this kind of stuff? The kids enjoyed it too and along with a few old bridges and the birds and rabbits it was nice to have plenty to look at along the way. 
I can see why the Rail Trail is so popular and Can easily imagine eating, drinking and riding my way along the whole length over a few days.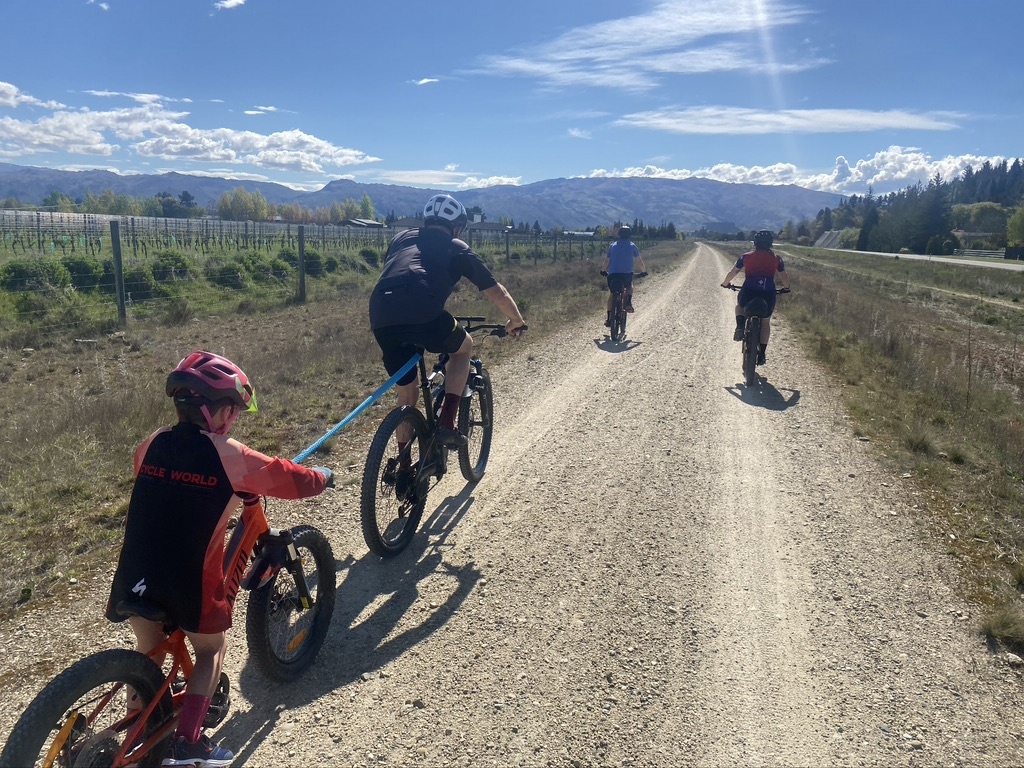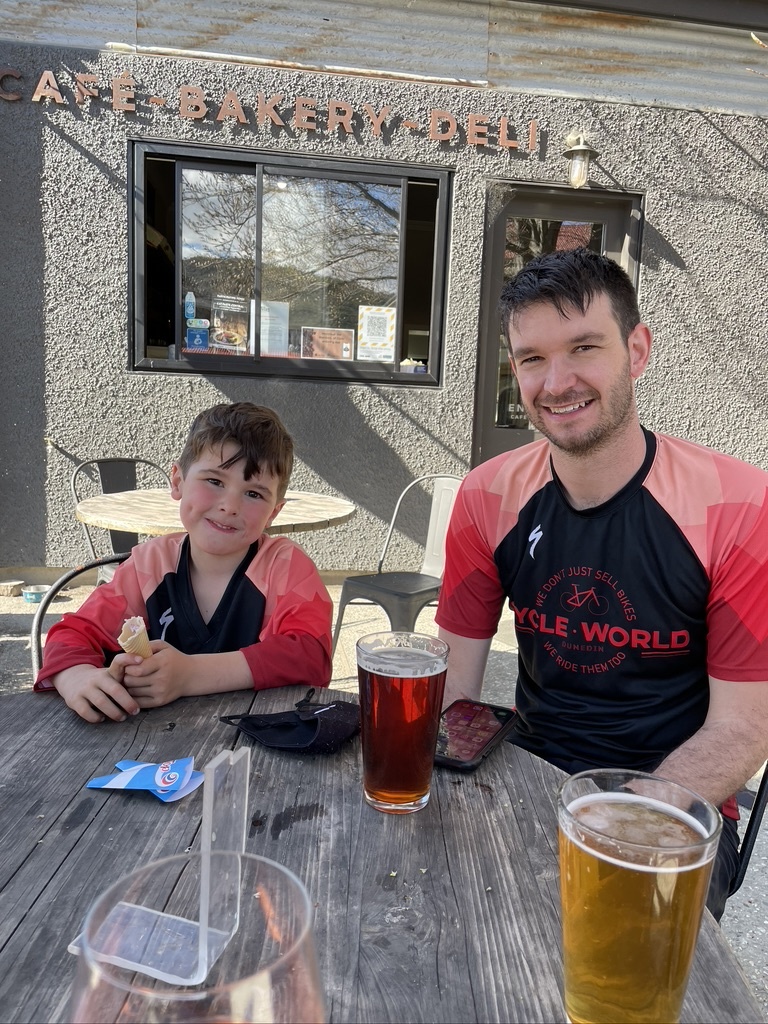 Day 2
Lake Dunstan Trail – Cromwell to Clyde 42km and then Rail Trail to Alex 9.5km
Grade 2-3 Intermediate
Our weather window looked the best on day 2 and so we wanted to hit the Lake Dunstan Trail, which had really brought us here. You can start in Clyde but we had heard it was better coming the other way (and would agree) or you can start at Cromwell, Bannockburn or Smiths Way depending on how far you want to bike. With two kids we decided it would be safer to start at Cromwell but were all glad we didn't skip to Bannockburn as this section of track was fun and scenic winding beside the inlet of the Lake and the Kawarau River.
So was the track to Cornish Point with a winery, some cool boardwalk features and a new perspective on Cromwell.
It only got more impressive from there with a can-do attitude not letting some cliffs get in the way of a bike track. They have just bolted bridges onto the cliffs here and this is so unique to ride. Speaking of unique, coming around the corner to see a coffee flag on a boat was a welcome sight and such a novelty as was the boat selling burgers. We would advise you to give yourself a little time to digest if you have a burger as you are about to hit one of the main climbs. These climbs have a reasonable gradient but lots of switchbacks and kind of go on for a while.
With both kids on the Shotgun seats, we were interested to see how long before they got bored or started complaining but this didn't happen. Perhaps it was the amazing scenery or the interesting sites. It was cool chatting away with the boys on the bikes and we were able to talk about suspension bridges after the Hugo Bridge, geology after viewing the Carnmuir Slide works and mining history after looking at an old hut and a water canon amongst many more varied topics! The last section of the track is reasonably straightforward and it is nice seeing the Clyde Dam get closer and closer.
This track is so special and I would highly recommend it but be aware that this track is more remote, more demanding and a little bit scarier than the Rail Trail etc.
We stopped for refreshments in Clyde (again) and unfortunately it started raining while we were there so it was full turbo mode on the ebikes back to Alex for showers, beers and banter.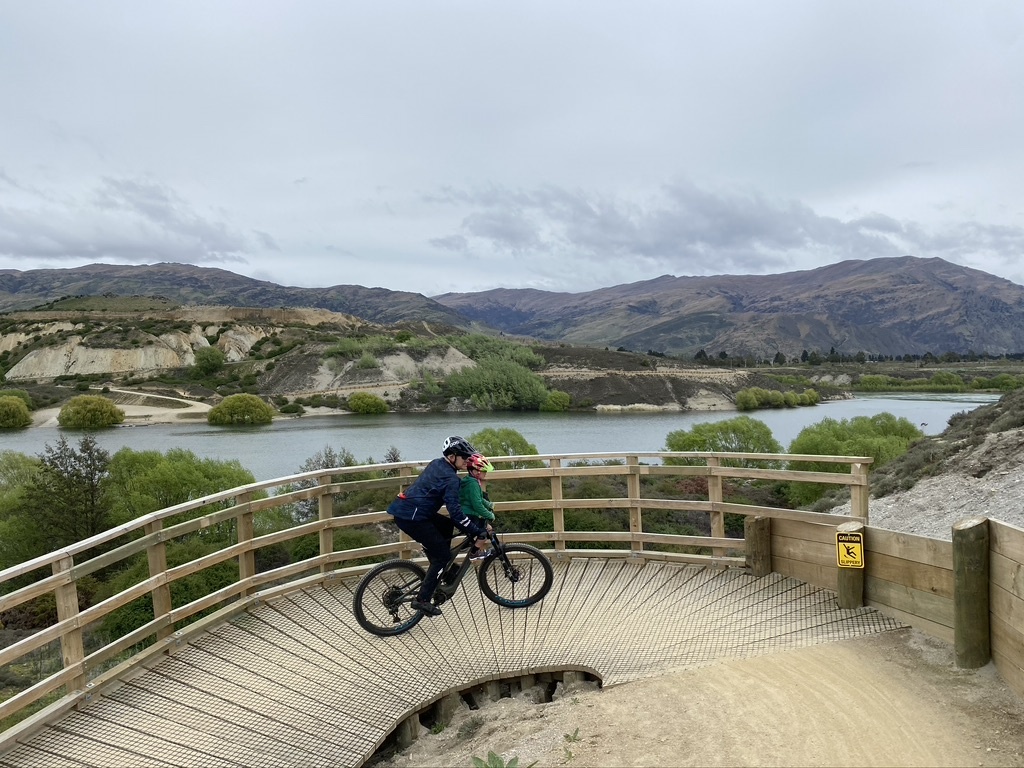 Day 3
Roxburgh Gorge Trail – Alex to Doctors Point Return – 10km each way
We found another well-formed track at the start that Ezra (5) was able to pedal on but after a couple of wee hills around the 4km mark we came to some more exposed sections that would have been a bit tricky. With it being fairly windy and a little cold Grandad volunteered to take both kids back for a fluffy. This is where the tow rope came into its own – Ezra being a bit tired and grumpy at this point was still able to pedal, brake and corner but get a bit of help up the hills.
The rest of us carried on and battled the headwind down the gorge, the spectacular views along this section being our reward. We came to one section with signage saying to get off and walk although to me this was seen as a challenge… It was pretty narrow and tight but had barriers on the worst bits.
The track ends at doctors point with views of mining village remnants across the track. How hardy must these folk have been? I was a little disappointed seeing some riders get on the jet boat and carry on but the other end of the trail would have to wait for another day.
Biking back with a tailwind I was able to enjoy the surroundings. If it wasn't for the purple thyme and blue water the Roxburgh Gorge would seem like another planet. The final section back into Alex flattens out and heads into the willow trees and by then all I was thinking was coffee!
This is cool and if you haven't been in the Gorge before you need to go to but if you are after a more adventurous ride you could try heading out via the Flat Top mountain bike tracks.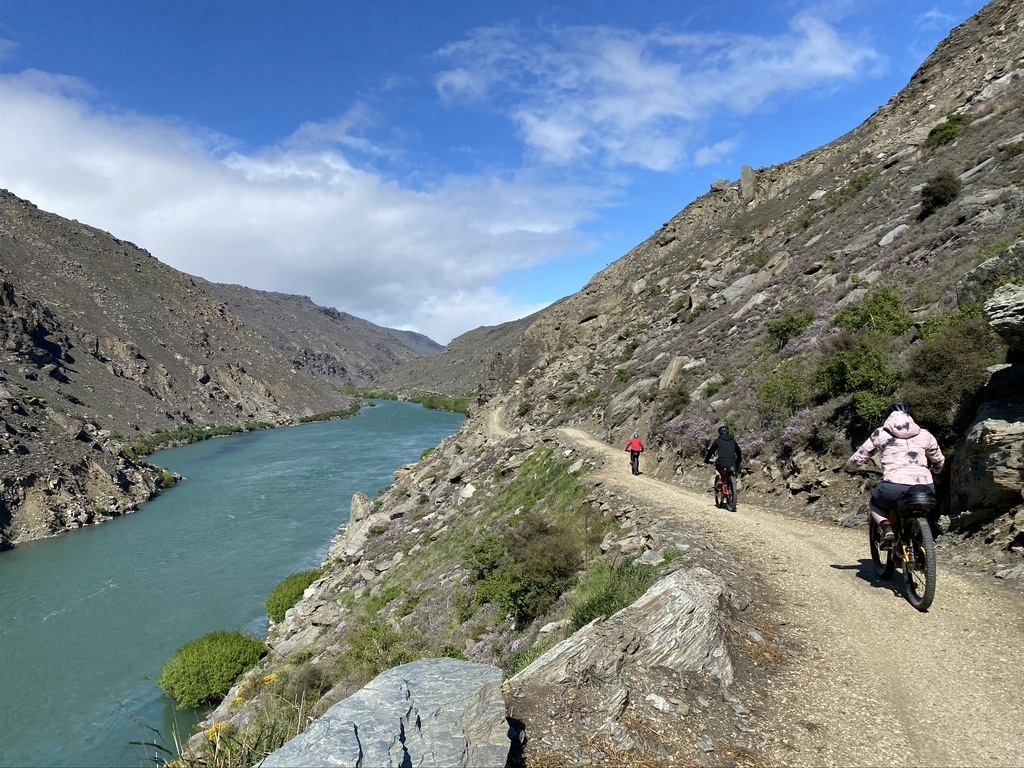 Day 4
Boot Hill Trails -  7km -  Grade 2-3
And an attempt at Pedal 4 Pinot - 27km - Grade 1-2
We started our day with a few laps of the Boot Hill trails behind Alex and it was great to be on some single track with some berms, roots and ruts. Luka was giggling away from the Shotgun seat and Ezra wanted a couple of downhill runs requiring tows from Grandad. The less experienced members of the group enjoyed pushing themselves on some mixed terrain and tighter turns and afterwards at the cafe the talk turned to Heaphy and Ghost Road. Mission complete = addicted.

Next we set out in search of some famous Central Otago Pinot Noir on the "Pedal 4 Pinot" loop taking in the Millenium River Track on the opposite side of the Clutha River and returning via the Rail Trail.
The Millenium track was fun with some boardwalk and a few twists and turns but the signage for the vineyards was pretty hard to spot and the tracks looked very overgrown and not super inviting. We had made it onto the property of one of the vineyards when Luka fell into an irrigation ditch and went fully under requiring some quick action from Byron. This put a damper on our plans quite literally but thankfully we had spare clothes for the kids. We got Luka warm, dry and snacked, left the kids bikes behind some bushes and got them back into the shotgun seats. We continued on via an old quarry road that headed in the right direction towards Clyde. It was kind of apocalyptic riding this road with trees growing out of it but it was faster and got us to lunch quicker.
The vineyards on the return leg of the Rail Trail had better approaches but it was still hard to tell if anyone was there or what the deal was. My advice would be to call ahead and make sure they will be there and are expecting you.
We were getting quite familiar with this section of the Rail Trail by now and when my rear tire started going flat I knew it wasn't far to home.
We pedalled for Pinot (and Reisling and Gewurztraminer) and didn't really get any while pedalling but we definitely had another great day out and after returning home we jumped in the van and headed out to the vineyard to collect the boy's bikes and FINALLY a few bottles of wine.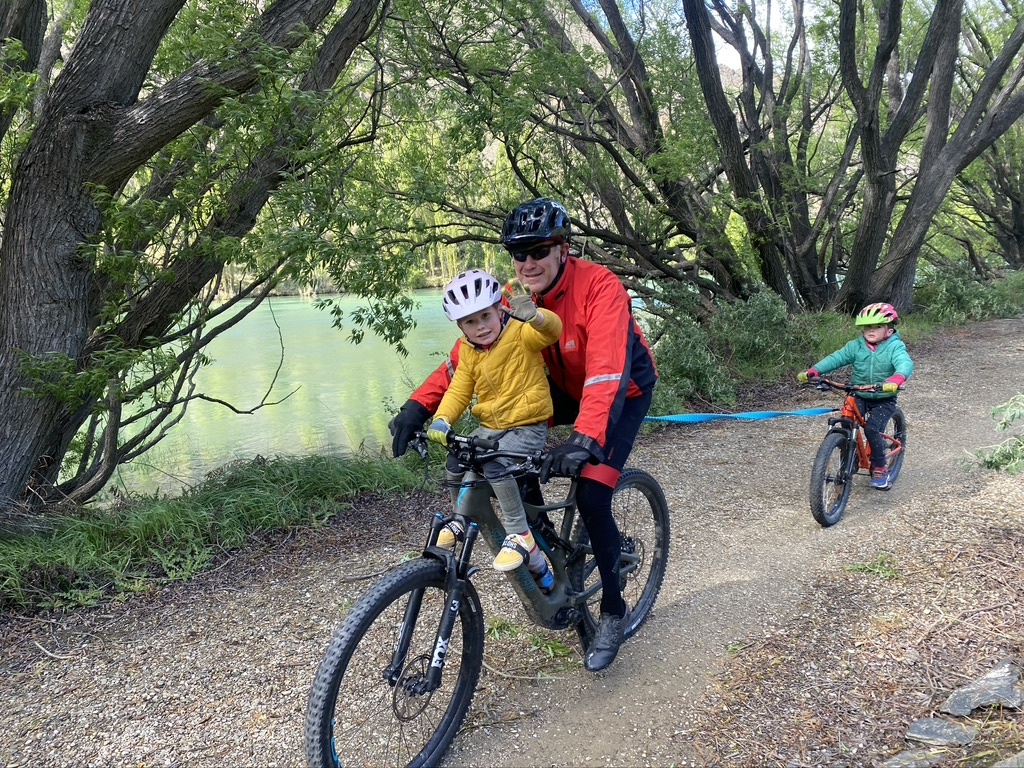 Alexandra is definitely a hub for adventures and with many more advanced trails for mountain biking there is lots of room for progression here too. We had an awesome time on the bike and also found plenty of good food and drink, if it was a bit warmer I'm sure we would have all been in the rivers and lakes too and I can't wait to get back.
Made possible with the following gear:
Bikes - Specialized Levos
Aeroe Bags
Kids Ride Shotgun equipment
Pop into the store if you want to chat to Matt about his trip or to find any of the kit he used.